「Measurements of Macro-scale properties and local electronic states on hyper-ordered materials」
Principal Investigator:
Takehiko Ishikawa
(JAXA, Professor, Thermophysical property measurements using microgravity)
Co-Investigator:
Takayoshi Yokoya
(Okayama University, Professor, Simultaneous
measurements of atomic structure and electronic
states using photo electron holography)
Yusuke Hashimoto
(Nara Advanced Institute of Technology, Assistant professor, Development of hard X-ray photo electron holography)
Hirokazu Masai
(AIST, Measurement of physical properties of amorphous materials)

Related-Researcher:
Tatsuya Mori
(Tsukuba University, Assistant professor, Measurement of dynamics in hyper-ordered structure)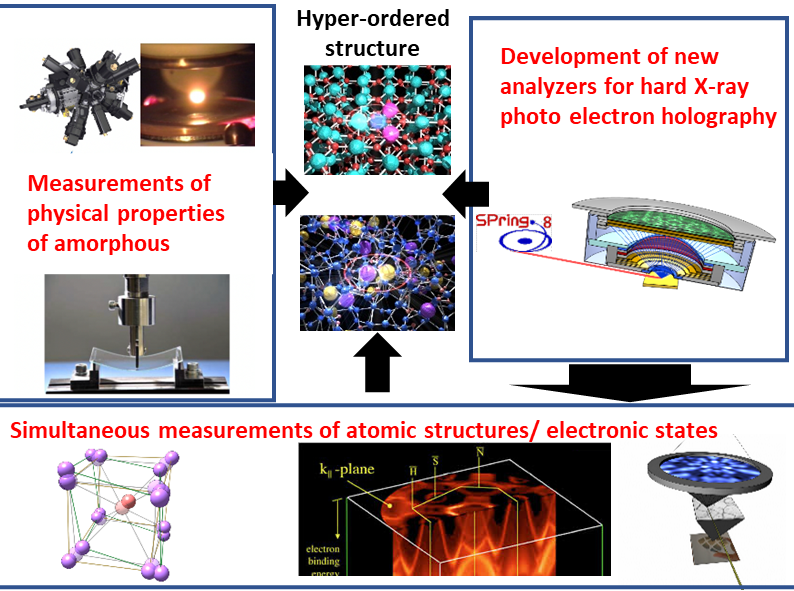 <Goal>
Through the development of advanced photo electron holography, atomic structures and electronic states of hyper-ordered structures are simultaneously measured. Physical properties of glasses including their liquid states are measured using the state-of- the-art facilities.
<Content>
Development of new analyzers for hard X-ray photo electron holography. Simultaneous measurements of atomic structure/electronic state by X-ray photo electron holography. Thermophysical property measurements of molten oxides using a containerless processing facility in the ISS. Physical property measurements on amorphous samples.
<Collaboration>
Measurements of hyper-ordered structure will be conducted on the samples provided from A01 group. Data systematically measured by A02-1 and A02-2 will be transferred to A03 group for further theoretical analyses.